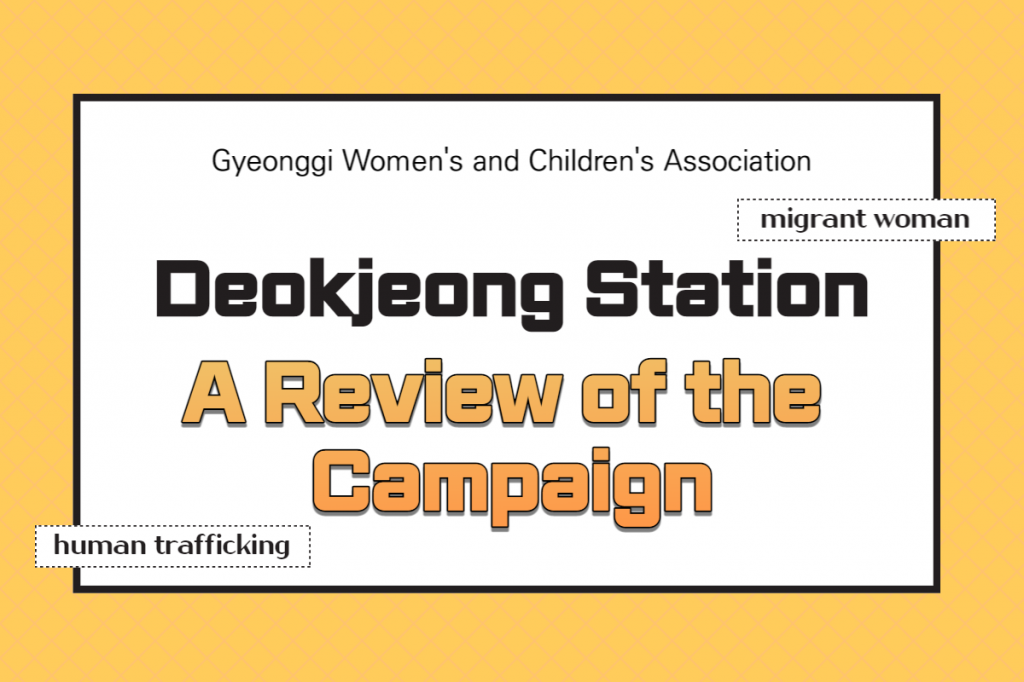 written by durebang hanul
On Monday, June 27th, I went to Deokjeong Station for a campaign today! ♪(▽▽)) It rained a lot during the last campaign, and it rained a lot again for this one. I really wanted to do a campaign outside without rain, so it was a bit disappointing to have it rain again.
But the newly prepared campaign sashes arrived just in time, so it was a very pleasant start. Today, I was with activist Pepe, Durebang's director, and intern Hanul! (≧∇≦)
Deokjeong Station was very crowded with staff from different sexual and domestic violence counseling centers of northern Gyeonggi Province. I could feel the burning energy for the campaign!
While wearing campaign sashes with the words "sex trafficking OUT, sexual exploitation OUT" and "sex trafficking is illegal," activists gathered to distribute leaflets related to human trafficking.
I was very nervous because it was my first campaign at Deokjeong Station, but more people were interested in Durebang than I thought, and some people asked what human trafficking was.
I explained that human trafficking does not just mean kidnapping, but deceiving people can also be a form of human trafficking. When reading the story of a girl written in the leaflet, one person was shocked saying, "That's ridiculous. I still didn't know this was happening."
While Hanul, who came from the United States, had some difficulty fully explaining in Korean, she passed out the leaflets very actively. She shared her thoughts of the campaign below.
Hanul: This was my first campaign. I was very nervous and worried because I didn't know how people would react when we handed out leaflets. There were a few people who ignored us and refused the leaflets, but there were also others who were curious and wanted to listen to our campaign. I was so thankful to them. Before, there were times when I saw people handing out leaflets and tended to avoid them, but I realized during this campaign that those people handing out leaflets that I avoided may have something important to say and bring awareness to. From now on, I want to try to stop and listen and be curious like those who listened to our campaign! I hope to participate in the next campaign and I'm looking forward to it!
I was able to finish the campaign well with a rewarding heart. I hope it doesn't rain next time! And in the next campaign, we will definitely prepare picketing signs about human trafficking!
So that's it for today.
Thank you for always supporting Durebang. o(^▽^)o